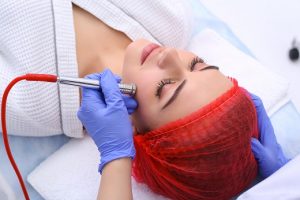 Microdermabrasion offers instant gratification with little or no downtime.  Your skin is immediately softer and smoother with a more even texture.  Your skin care serums will penetrate more easily and your makeup will go on more smoothly.
Microdermabrasion stimulates blood flow, which increases the nutrition delivered to skin cells.   This, in turn, improves cell production, which improves skin's elasticity and texture.
I use a microdermabrasion machine with a diamond tip and gentle suction to exfoliate the skin and remove the top layer of dead, damaged skin cells revealing the healthy skin underneath.  Studies show that microdermabrasion, specifically using a diamond tip, also stimulates collagen production.  I choose the abrasiveness of the tip based on your skin type and level of sensitivity.  The suction is also adjustable for a customized treatment.  The treatment is painless, in fact, most clients enjoy it.
Microdermabrasion can be done as a stand-alone treatment or added to a facial.  A mild chemical peel can be added as well.  Depending on the type of peel you may have some mild flaking for a few days afterward.
The treatments are usually done every 2 weeks or once a month depending on your skin and the results you want to achieve.  You can also alternate with other treatments or facials.
After your treatment, you need to avoid exfoliation for several days and use sunscreen faithfully.
Microdermabrasion can also be done on the body, usually the back or chest.  Treating the back can be especially beneficial for someone with blackheads in that area.  No, the suction isn't strong enough to remove them but it can make the extractions afterward easier.
Microdermabrasion, however, is not for everyone.  If you have broken capillaries, very sensitive, thin or sagging skin it may not be the best treatment for you.  In that case, you may benefit more from our OxyGeneo treatment which offers a great exfoliation without suction.
Contact us today and we can help you choose the best treatment for your skin.